In 2018, the Fairfax County OCR and the Fairfax County Park Authority (FCPA) embarked on an engagement process to solicit community input on the vision for a new, innovative community gathering space in downtown Annandale. The County wishes to implement this vision by creatively repurposing a portion of the property that it owns at 7200 Columbia Pike—a step toward building a central public space that is consistent with the long-term vision for Annandale.
Project Site and Background
Located in the heart of the Annandale Community Business Center (CBC) and Commercial Revitalization District (CRD), the property is a former elementary school. Presently, the buildings and a portion of the grounds are licensed to a community non-profit. The area proposed for the Annandale Civic Space is under one acre in size, and outlined in green and yellow in the aerial image shown below.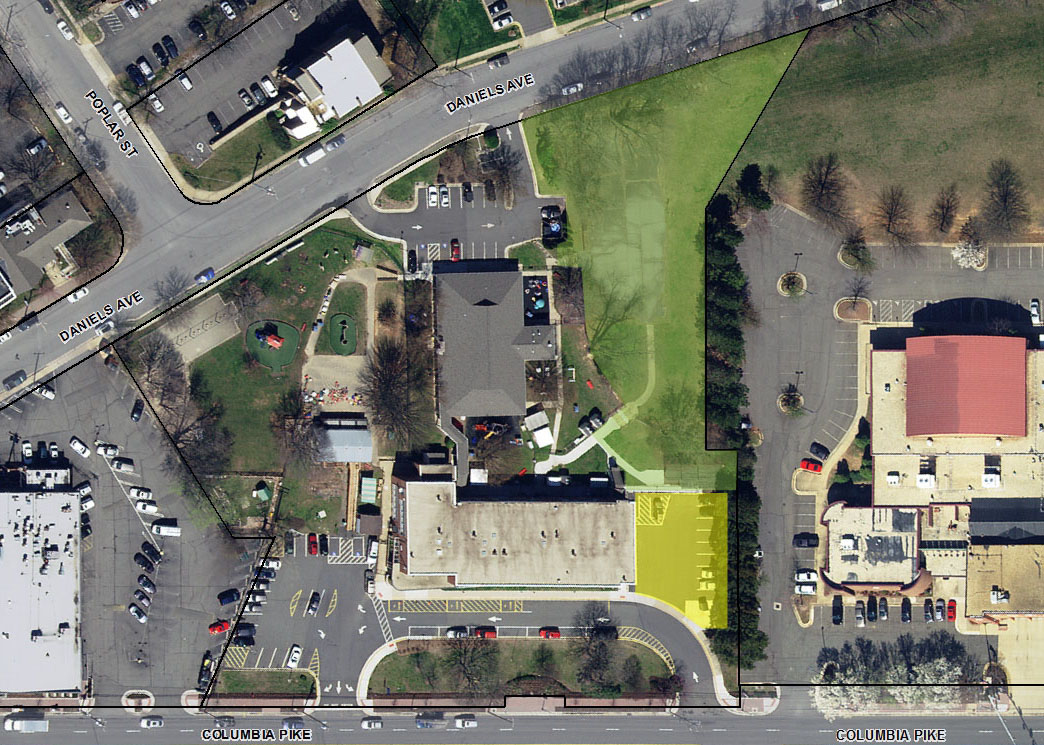 The Annandale Civic Space provides an opportunity for the County and community to achieve elements of Annandale's long-term vision in the near-term through the creative re-use of an existing asset into a public space that could function as a hybrid of a neighborhood park space and a flexible "pop-up" space capable of hosting programming activities and special events. Communities across the country are exploring the placemaking power of such projects to bring people together and contribute to the vibrancy of an area. 
Annandale is the ideal site for this project for several reasons including the County's ownership of the property, the long-term community vision for the CBC/CRD, and community support.
Vision
This initiative launched in May 2018 and has evolved with community input and the identification of additional opportunities and/or constraints. In the fall of 2018, community members were given the opportunity to provide input on two draft design concepts. County staff took the preference input provided and refined the design over the winter and spring of 2018/2019 into a final design vision.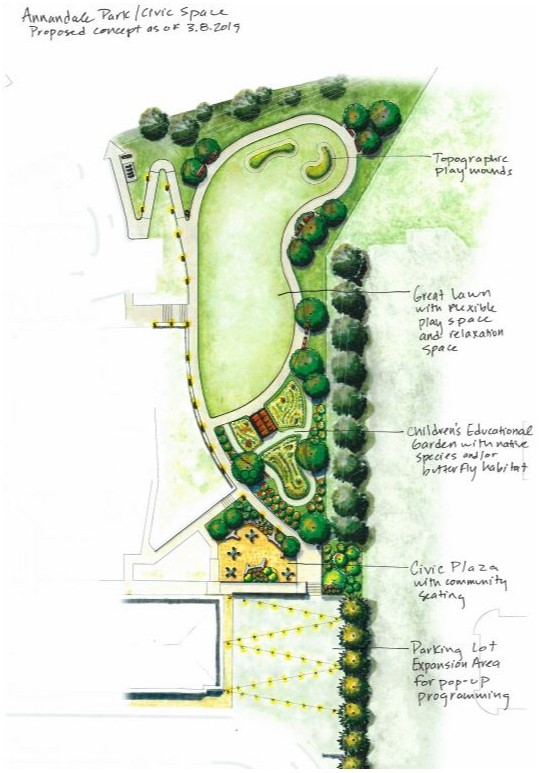 The vision consists of approximately four distinct areas:
Parking Lot Expansion Area for pop-up programming
Civic Plaza
Children's Educational Garden
Great Lawn
The design would take the property's existing underutilized open space and turn it into a more functional community space for public enjoyment. This would include the installation of a new Americans with Disabilities Act (ADA) accessible path to the space, while providing a connection from Daniels Avenue to Columbia Pike.
Watch the walk-through video tour to learn more about the space and the vision for the future or read the design briefing to learn more about specific elements of the design.
It is important to note that the design is still subject to change due to budget, phasing, and operational considerations, or on-the-ground site constraints that are identified as the project evolves and moves toward implementation. The design gives you a sense of the overall vision for the space but is intended for illustrative purposes only.
Project Timeline
Year
Activity
Timing
Status & Notes
2018
Community Engagement
Hosted a "demonstration park" for community input on vision, design and programming activities, and hosted an online survey for input. The input received was used to help inform the draft design concepts.
Spring

Complete

Press Release
Spring Results Document
Highlights Video from June 3, 2018

Conceptual Design Development
Summer

Complete

Community Engagement
Hosted a "demonstration park" for community input regarding a preference on two draft concepts, and hosted an online survey for input. The input received was used to help inform the final design concept.
Fall

Complete

2019
Finalize Design Concept
Winter and Spring 

Complete

Pop-Up Programming Series
Host "pop-up" programming and install a creative temporary community gathering space on the site for community enjoyment from June through October 2019.
Summer and Early Fall

Complete

Visit the Programming Page for Highlights

Watch: Channel 16 video on the Pop-Up Programming Series and future Annandale Park/Civic Space Vision

2020
Public Facility Review
Conducted Public Facility Review and began preparations for engineering site analysis.
Summer and Fall

Complete

View the Informational Presentation given to the Mason District Land Use Committee on Oct. 27th, 2020.

Completed Public Facility Review on Dec. 2, 2020.  The verbatim for the civic Space from the meeting can be found on the Planning Commission Webpage.

2021
Engineering Analysis
Conducted engineering site analysis, design refinement, and updated cost estimate.
Winter through Fall
Complete
Community Update
Hosted a virtual Community Update on the Civic Space in June 2021
Summer

Complete

Outreach Flyers: English, Spanish, Korean

View the Virtual Community Update Meeting from Tuesday, June 29th, 2021.

View the Walk-Through Video Tour of the Annandale Civic Space.

View the results of the Park Elements Preference Survey conducted during the meeting.

Note: This community meeting was conducted in English and included live Spanish interpretation from a translator.
The recording also has the option to auto-translate the captions into multiple languages under the settings button.

Grant Funding
Applied for grant funding for the project.
Summer

Complete

Outcome TBD

2022

(To Date)

Rough Grading Plan Submission
Submitted the engineering RGP for review by the County.
Winter
In Progress