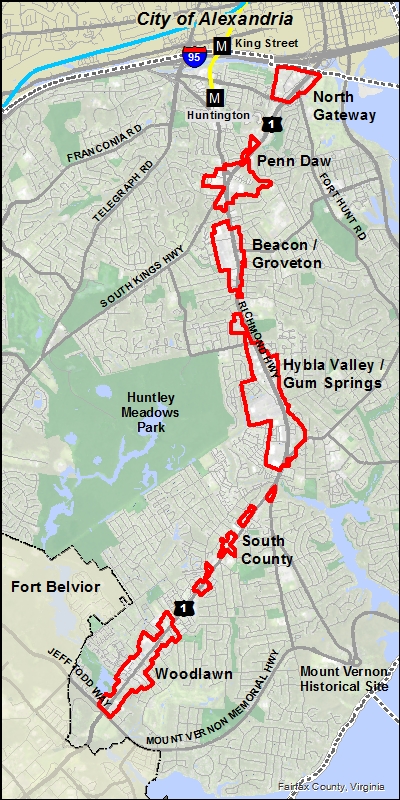 About
The Richmond Highway corridor is part of the historic Route 1 that serves the east coast from Florida to Maine.  The nine mile portion in Fairfax County extends from the Capital Beltway and the Huntington Transit Station Area to Fort Belvoir, a US Army base.  There are many assets in the Richmond Highway area such as historic Mount Vernon and Gum Springs community and significant environmental features. Two zoning overlays include a Commercial Revitalization District (CRD) and a Highway Corridor (HC) district. The CRD designation is applied mostly within the corridor's six Community Business Centers (CBCs).
Adopted in 2018, the Embark Plan contains a new vision for the corridor that integrates high quality urban design and transportation to create walkable, mixed-use centers in many of the CBCs.  Roadway improvements and a new Bus Rapid Transit system are being planned to improve mobility.
Quick Facts:
Total Area: 698.90 Acres
Total Population:  8,586
Median Household Income:  $67,396
Median Home Value:  $337,317
Median Age:  32.2
Population 25+ with College Degree or More:  39.65%
Total Non-Housing Consumer Spending:  $94.14 Million
All values are 2020 Estimates for within CRD boundaries provided by ESRI Business Analyst Desktop.