about
The Springfield Commercial Revitalization District, (CRD), located just south of the I-495 and I-95 interchange, contains a variety of retail, office, and residential activities that is accessible by both Metrorail and the Virginia Railway Express at the adjacent Franconia-Springfield Transit Station. A vision for a walkable, well-connected urban village was established in the Springfield Connectivity Plan in 2010, with goals for higher density development, quality urban design and place-making. The Greater Springfield/Franconia area has more than 10.7 million square feet of industrial flex space, 4.2 million square feet of office space, and 5.3 million square feet of retail space, including the Springfield Town Center, with tremendous influence on and opportunity for the Springfield CRD.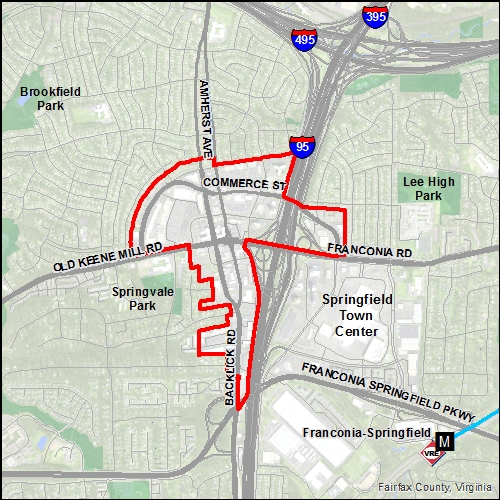 Quick Facts:
Total Area: 250.28 Acres
Total Population: 892
Median Household Income:  $81,676
Median Home Value:  NA / No Owned Units
Medina Age:  34.2
Population 25+ with College Degree or More:  33.62%
Total Non-Housing Consumer Spending:  $9.79 Million
All values are 2020 estimates within the CRD boundaries provided by ESRI Business Analyst Desktop.
Springfield Branding Project
To enhance the identity and visibility of the Springfield area, Fairfax County has launched a campaign to install new gateways signs at key entrances to the CRD.
Springfield Partnerships
The Greater Springfield Chamber of Commerce brings local businesses together to promote economic growth and business opportunities in harmony with community objectives.
2020 Revitalization Activity Update
Read the 2020 Revitalization Activity Updates for the Springfield CRD and other Revitalization Districts and Areas.
Springfield Commuter Parking Facility
A new and innovative commuter parking garage is coming to downtown Springfield. Plans for the six level, 1,100 space garage, located at 7033 Old Keene Mill Road, includes ground floor space to accommodate special events such as a farmer's market during off-peak hours, and a 5,000 square foot portion of the upper deck plaza for community events. A 200-foot-long pedestrian bridge over Old Keene Mill Road will connect the garage to Springfield Plaza and function as a gateway to Springfield. Construction is expected to begin in the spring of 2021, with completion by late 2023.